The latest updates from the Coflyt team
2021 was an excellent year for Coflyt, despite the crazy "start and stop" of various events and activities due to the continuing impact of Covid. Like you, we long for the day that Covid's impact is not a main topic of conversation! We started the 2021 aviation year like many of you at Sun 'n Fun, and it was a blast meeting so many of our friends and clients. Sun 'n Fun was the kick off of our year of growth – Coflyt saw more than 200% year-over-year growth! – and we appreciate each and every one of our customers that helped us achieve such amazing growth! It is great to be able to bring Coflyt's aircraft management tools to so many new customers, and we look forward to continued growth from across the aviation community this year.
As we're reviewing 2021 and planning for an exciting year ahead, I wanted to share a few of our team's favorite highlights of the past year:
It feels like the aviation calendar doesn't really kick off until Sun 'n Fun starts, and it was great to see the community there in 2021. We manned a Coflyt booth for the week and enjoyed seeing so many of our clients – and meeting new customers – during the show. Our friend Josh Flowers with Aviation 101 joined us in the booth that week, and it is always exciting to share some time with one of our favorite partners.
We're planning to be there in 2022, so stop by and meet the team (we'll be in Hangar A, booth 96) if you're planning on attending Sun 'n Fun this year, we'd love to meet you!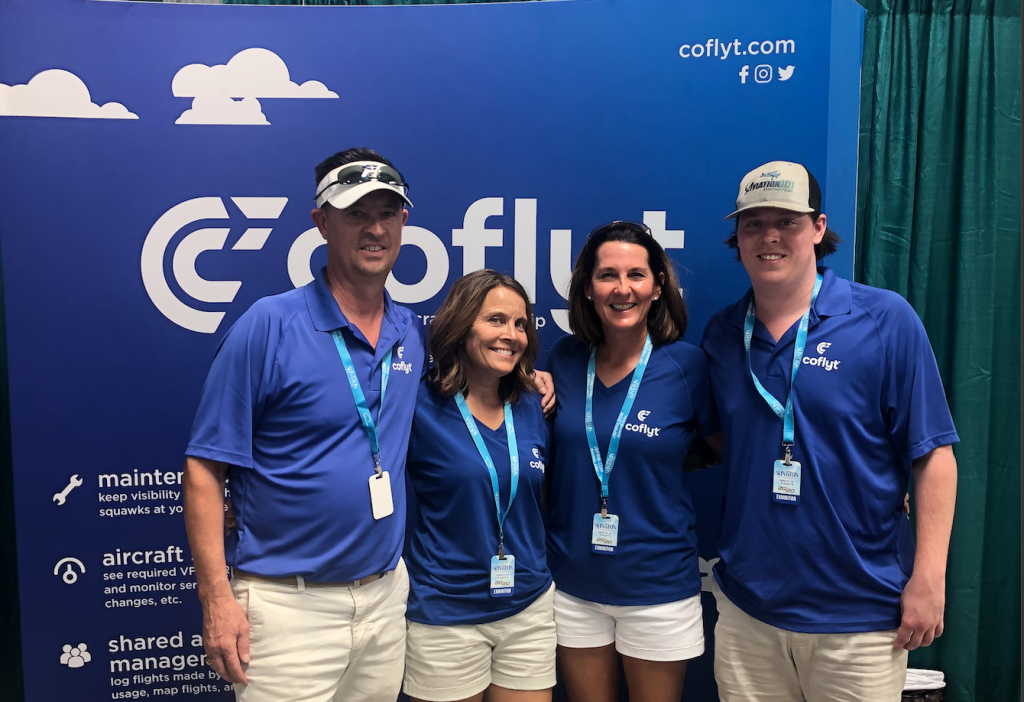 Coflyt for Students & New GA Aircraft Owners
During the spring of 2021 we were excited to launch a free version of Coflyt. We want Coflyt to be available to those who are just learning to fly or maybe have just purchased their first aircraft, which more often than not has very little complexity that needs to be managed. One of our long-term goals is for Coflyt to be used for training so that Flight Students can be taught aircraft management responsibilities using Coflyt, without paying a fee. We hope to grow with these student pilots and owners and provide an even more robust service to them as their aircraft requirements and management needs change.
Partnering with Aircraft Spruce
We were excited to partner with Aircraft Spruce this past spring to provide their customers with easy access to Coflyt via the Aircraft Spruce website (check it out here). Using Coflyt allows aircraft owners to track their needs for maintenance and management, while the parts and services they need for their aircraft are available via Aircraft Spruce. We believe this partnership is a natural fit, and personally, I have always found their customer service and delivery to be exceptional!
Providing Innovative Part 135 Maintenance Solutions for Verijet
We continued to expand our partnership with Verijet throughout 2021, and we are excited to continue to grow alongside their business. They have an amazing business model, using the Cirrus Vision Jet for part 135 travel, and Coflyt's revolutionary management tools fit well within their revolutionary travel model.
In late summer 2021 we finalized an agreement with Pierce Aviation a private aircraft management company out of Louisiana to provide Coflyt's aircraft management tools to simplify maintenance tracking for their fleet of aircraft. They have a great team at Pierce, and we are excited to work with them to provide the best in aircraft management and streamline their back office maintenance workflow.
NBAA Membership & BACE Conference
Coflyt was excited to be a part of NBAA-BACE for the first time in Las Vegas this past October. As we continue to grow and provide aircraft management services for both Part 135 and Part 145 operations along with our continued support for Part 91, we look forward to expanding our relationship with the amazing teams and individuals we met at NBAA-BACE.
Overall, 2021 was an amazing year for Coflyt, but like many of you, we are ready to build on the momentum, moving rapidly into 2022 and continuing growing Coflyt while meeting many others in the aviation industry. We have key projects underway that will continue to innovate the way aircraft owners and operators manage their aircraft and look forward to sharing them with you. We love meeting new people and sharing ideas, so if there is anything you would like to discuss with Coflyt, please reach out! Thanks again to our many clients and we look forward to introducing Coflyt to many others in 2022!