Coflyt is an intelligent aircraft software that provides peace of mind for aircraft owners, partnerships and flying clubs. Developed by pilots, Coflyt streamlines aircraft ownership and centralizes flight logs, tracks flight maps, analyzes usage, shows aircraft availability, sends status updates to A&Ps, simplifies payments and more! Know exactly when aircraft maintenance is needed, access real-time usage data, and ensure compliance – all from the palm of your hand. Download Coflyt on Google Play or the App Store.
Coflyt provides the leading software and app technology available in the aviation community for aircraft management, enabling intelligent aircraft ownership and #PilotPeaceofMind.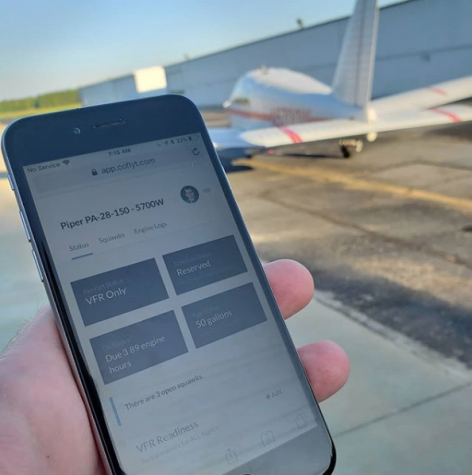 Aircraft ownership is a goal of most pilots, whether they have just finished their check ride for their private pilots license or they are about to retire from a long career as an ATP in the airlines and look forward to flying on their own schedule.
As we move through the steps in our aviation life or career, we are required to absorb all the possible knowledge about flying aircraft to complete each phase, but we are seldom – if ever – asked to remember the FAR Part 91 requirements for aircraft ownership nor are we required to indicate our knowledge of ownership before purchasing our own aircraft.
Coflyt founders, Tal Clark and Eric Hill took different paths to aircraft ownership, but each realized after purchasing their first airplane that aircraft management requirements were not obvious and there was no technology available to help with their newly purchased aircraft; unless you consider a combination of aircraft logbooks, Excel, email and Quickbooks as 'appropriate' technology! 
Eric purchased his 1963 Piper Cherokee with two other partners and quickly realized that scheduling, logging maintenance items, expense management and tracking required interval inspections were necessary across their ownership team, along with communication within the team about each of these items. After conducting a lengthy due diligence to find a solution, it became obvious to Eric that if he wanted software to meet the needs of an aviation partnership, he was going to have to build it. This was the initial start of Coflyt!
About the same time, Tal had realized his dream of aircraft ownership by purchasing a 1972 Beechcraft Bonanza F33A. It became apparent from the first day of ownership that there was no book on "how to own or manage aircraft requirements" for a complex aircraft, although the American Bonanza Society and other organizations can provide invaluable information via their websites and message boards. It became obvious to Tal that tools were needed when a noted Beechcraft Instructor arrived at his hangar for a Bi-Annual flight review and noted early in the pre-flight that there were items that prevented the flight, including the required Transponder check. There is a Transponder Check requirement? Of course, along with other FAR required checks to assure the aircraft we own are airworthy and meet the requirements for carrying passengers, not to mention meet the expectations of our aircraft insurance providers.
Tal and Eric knew each other through their affiliation with Mississippi State University, and during one of their usual conversations about flying, recognized that the software Eric had begun working on for his partnership would be extremely valuable to the general aviation community as a whole. They then decided to formalize the business structure of Coflyt, LLC in May of 2019 , adding expert in app and software development, Stephen Rainey as CTO. They committed the resources necessary to develop and launch the Coflyt App in September of 2019 at the AOPA Fly-In in Tullahoma, Tennessee. Their goal is to assure Coflyt remains at the forefront of technology available to general aviation pilots, reducing the stressors of aircraft ownership and creating #PilotPeaceofMind!
Coflyt will become the standard for aircraft management software in general aviation and will be considered necessary for intelligent and safe aircraft ownership, ultimately bundled with purchases of new and used aircraft in the United States. Expansion into Part 135, Military, Part 121 and international markets will provide a continued path for growth, while continued investment in the latest technology will assure we meet the needs of each of our customers.