Coflyt Feature in ABS Volume 21 • Number 3
Coflyt is a cloud-based aircraft management system that provides peace of mind for aircraft owners and partnerships. The software – available on the web and iOS – centralizes inspections, AD, and maintenance tracking; squawk sheets, flight maps, usage statistics, scheduling, payments, communications, and in the near future, aircraft logbooks. "Our mission is to provide some sorely needed peace of mind to pilots and their partners," company Co-Founder, ABS member, and Beechcraft Baron E55 owner Tal Clark said.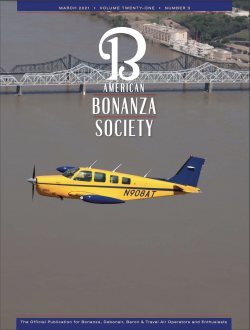 Clark founded the company in 2019 with partner Eric Hill. The startup has big ambitions, but its origins were modest – rooted in the two men's own, private struggles with airplane ownership. Hill had purchased his first plane – a 1963 Piper Cherokee – with two partners. They quickly realized that scheduling flights, tracking inspections, logging maintenance needs, and managing expenses across a team of owners was going to be a challenge. "Pen and paper just weren't going to cut it," Hill said. "There were digital solutions on the market, but they were all expensive, unintuitive, and lacking features that, for the solo pilot or small partnership, like ours, were needed." Unable to find a system that met his needs, Hill decided to build one himself.
About the same time, Clark had purchased a 1972 Beechcraft Bonanza F33A. Early in his ownership, an ABS instructor arrived at his hangar for a flight review and noted the airplane was not airworthy due to a missed transponder check. When Clark heard what Hill had been developing, he recognized the market potential immediately. "If I'd had a product like this, I might have passed that inspection," Clark recalled. "And there were a lot of folks like me whose needs weren't being met."
Clark and Hill recruited an experienced software engineer, Stephen Rainey, to serve as the company's Chief Technology Officer and set to work rebuilding the application based on Hill's initial prototype. "Coflyt is an excellent tool for managing aircraft and assuring you maintain an awareness of your aircraft. It will help improve the real-time knowledge Beechcraft owners have about their aircraft," said Coflyt user Chuck Cook, Bonanza pilot and ABS-accredited BPPP instructor.
In 2020, Coflyt announced its new payment platform, which allows admins to manage and collect flight time payments from members. "They can set fixed, recurring fees and charge wet or dry usage rates based on either the Tach or Hobbs method — all from the palm of their hand," Clark said. "It really streamlines some of the headaches around accounting." Innovative features released in late 2020 include the option to automatically import specific ADs into Coflyt directly from the FAA; the ability to upload and store documents related to the aircraft and its use in the software; and the ability to export records of payments, flights, and squawks for your A&P or accountant. Templated inspections are in development and slated for release by Q2 2021. Templates will include specific inspection intervals based on aircraft make and model, further simplifying setup and management of aircraft in Coflyt.
"If you're an ABS member, let our team configure your account so you can get the most out of using Coflyt to effectively manage your Beech aircraft," Clark said. "Visit us at Coflyt.com/ABS to get started."