A GA Pilot's Weekend Guide to Memphis, TN
When it comes to weekend trips in the Southern United States, not many places can beat Memphis, Tennessee. Home to FedEx, Elvis, Beale Street, the Peabody Hotel, the Memphis Grizzlies, the world's best BBQ and one of the best views of the Mississippi River in the country! Ok, I may be a little biased, as we raised our kids in the Memphis area, calling it home for twenty great years. My wife, Janie, and I now live on beautiful Pensacola Beach, and recently flew to Memphis for a weekend getaway. Memphis holds a special place in our hearts, and it is one of the absolute best places to spend a weekend, providing unique opportunities to experience fantastic local food, culture, live music and the history of our nation's Civil Rights Movement.
When flying to Memphis, there are three airports to choose from: KMEM (Memphis International), KOLV (Olive Branch, MS) and M01 (Dewitt Spain, Downtown Memphis). All three airports lie under the Class B veil for Memphis, with air traffic usually plentiful for each, depending on the time of day. Memphis International does not have the commercial traffic it once did when it was a hub for Northwest, then Delta, but it is still the home and primary hub of FedEx. When choosing where to land for the weekend, it is pretty easy for me to eliminate MEM – when you consider both Wilson Air and Signature were charging north of $6.00 per gallon for 100LL at the time of our flight. These two are clearly not catering to general aviation traffic, when you consider that both KOLV and M01 offered full service 100LL for less than $4.00 per gallon the weekend Janie and I were there!
Here are my recommendations regarding KOLV and M01:

KOLV sits on the Mississippi – Tennessee line, about a 30 minute drive from downtown Memphis. Memphis Executive Jet Center is a new FBO and offers great service. I was able to rent a car, schedule my arrival and make any other arrangements via their website. And when I was there, 100 LL was only $3.44 a gallon! I landed in Olive Branch this trip because their service was top-notch, and it was easier to rent a car than it was at M01, although M01 is more convenient if you're headed downtown. Olive Branch also has a newly paved 6000' runway, making it more suitable for larger aircraft than M01. Metro Aviation Service is another FBO on the field, but it is basically city-run and doesn't offer anything special.
M01 General DeWitt Spain Airport is the perfect place if you are flying into Memphis for the weekend, and you plan on spending most of your time downtown. Memphis is very walkable, so once you check into your hotel, you won't need a rental car, unless you have business that requires you to move around outside of the downtown area. If your plan is to enjoy downtown Memphis for the weekend, M01 would be my first choice. It is a 3800' runway, nestled right into an area on the north side of downtown Memphis and is a really cool airport, with a small town feel. The downwind leg is over the Mississippi River, regardless of active runway, and on final for RWY 35, you feel like you could reach out and touch the Bass Pro Shops Memphis Pyramid! Fuel here is currently showing $3.38 per gallon on ForeFlight, so clearly flying into Memphis is one of the lowest cost options in the country, from a 100 LL perspective! So now is a great time to plan a Memphis trip.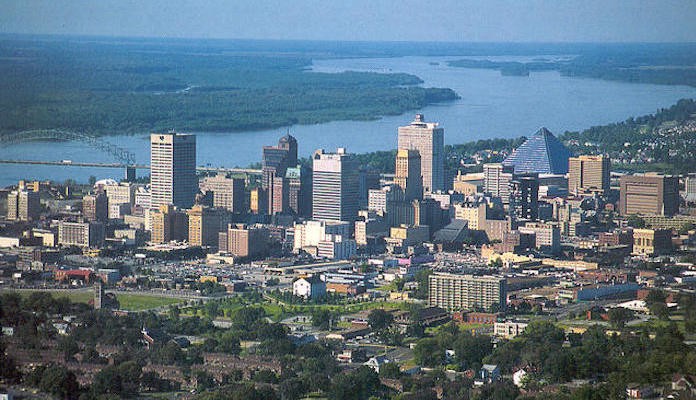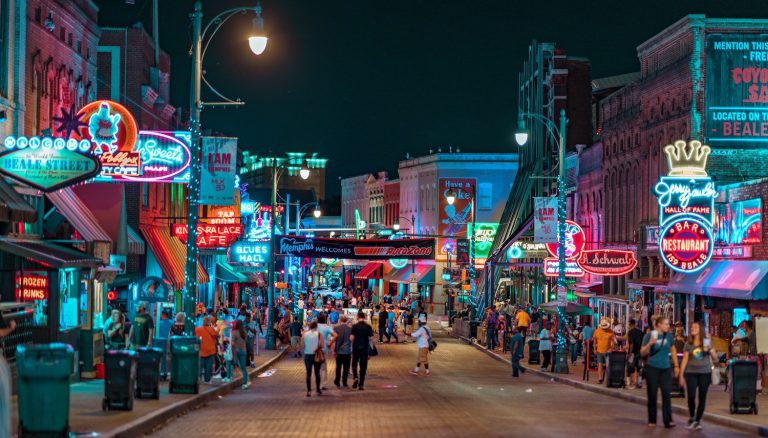 The fun begins as soon as you are on the ground in Memphis!
I've provided a suggested itinerary below that includes a number of "must experience" restaurants, sites and activities that will fill up your weekend visit. Generally, I try to arrive no later than noon on a Friday, just so I'll have a chance to grab lunch at one of the many great restaurants in the area.
Rendezvous or The Bar-B-Q Shop for lunch downtown. Rendezvous is the most famous BBQ in Memphis, and is located in the alley across from the Peabody Hotel. For classic Memphis dry-rub BBQ, simply order a half or full slab with slaw and beans, and you're set! The Bar-B-Q Shop actually has better ratings online, but Rendezvous is one of those places you just have to experience when you are in Memphis. As a former local, Central BBQ is probably my favorite and it is about an 18 minute walk, or 10 minute drive from downtown.
If you want to venture outside of the downtown area, there is a delicious Mexican sandwich shop called Las Tortugas, which offers some of the best food you will ever find in a casual environment.  You have to try it to fully understand just how good it really is. The owner, Pepe, purchases the fresh ingredients himself each day. This will be about a twenty minute trip from downtown.

After lunch stop by Tamp & Tap for coffee and an afternoon (or anytime) snack while you are in town. Yes, they offer beer as well, but I believe there are better places for a drink, so I typically just go for the coffee.
Visit the National Civil Rights Museum in the afternoon, as it is one of the most well run and enlightening museums in the United States. As you probably know, Memphis is the place where Martin Luther King was tragically killed, and this event is covered by the Museum, along with a much broader view of our Civil Rights history that can be discovered here.
After your visit to the Civil Rights Museum, it's time to relax and get ready for a night on the town! For your first night in Memphis, there is only one way to start, and that is in the Lobby Bar at the Peabody Hotel. Even if you don't stay there, go for a drink and enjoy it's one-of-a-kind atmosphere. The world famous Peabody Ducks are walked down to the fountain in the center of the lobby at 11 AM, then walk back up to their roof-top home at 5 PM. The 5 PM walk-up is led by the Peabody Duckmaster, and is an event that has been witnessed by thousands. If you are there during the holidays, it is typically packed, so be sure to arrive early to stake out a good spot. It can be crowded almost any weekend, so I recommend finding a seat in the lobby no later than 4 PM.
For dinner, try Flight Restaurant. It is a great restaurant, within walking distance of most downtown Memphis hotels. Flight Restaurant is a superb experience where you'll have the option of selecting flights of wine, food and desert or choosing one item, just as you would on a typical menu. A visit to Memphis just isn't complete without a dinner at Flight.
A few great restaurants outside of the downtown area to try include Erling Jensen, Folk's Folly or Andrew Michael Italian Kitchen. Each of these establishments are individually owned and operated by local Memphis chefs who operate their restaurants in a way that brings pride to Southern cooking.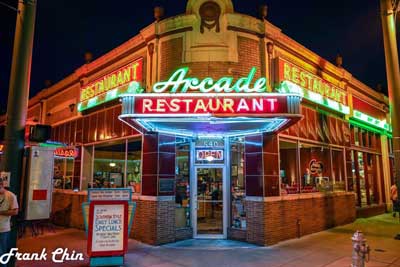 There are plenty of cool coffee shops downtown, but if you want a full breakfast, the Arcade Restaurant was founded in 1919 and is Memphis' oldest cafe. It is a little more than a walk from the center of downtown Memphis, but my wife and I decided to take Bird Scooters to shake things up.
These public scooters are available to rent all over downtown Memphis and are a blast to use to get to those places that are a little further than you might want to walk.At some point during the day on Saturday, take some time to walk along the Mississippi River.  There are miles of walking trails with spectacular views of the storied Mighty Mississippi. A path was recently completed that now crosses the river into Arkansas, which is really cool, but a little bit of a hike, but is totally worth it depending on how much energy you want to invest! Every time I'm in Memphis, I find it hard to pass up Gus's Fried Chicken for lunch on Saturday! While it may not look like much, this world-famous dive it is undoubtedly the best fried chicken on Earth! 
By the way, if you are a vegan looking for health food choices on the weekend, you may want to carry some of your own food to Memphis; although, most of the upscale restaurants do have vegan options.
Depending on the time of year you visit, there are fun choices for sports fans! One of the coolest things about Memphis is that you can attend a Memphis Grizzlies (the local NBA franchise) game, then walk right out onto America's most iconic street, Beale Street, after the game. There are also great pre-game activities, both on the street or in the bars, on Beale. All of this excitement is within an easy walking distance of hotels downtown, so if you are in Memphis during the NBA Season, make sure you go to a Grizzlies game.
In my view (and many others), Memphis is the heart of American Music. Because of this, there are several great sites worth visiting including:  Sun Studio where Elvis recorded many of his greatest hits, and the Rock 'n' Soul Museum. And of course, you have the second most visited residence in the US (second only to the White House), Graceland! While Graceland is amazing to see and visit, it is not convenient to downtown, and it is not in an attractive area of Memphis. If this is your only trip to Memphis, definitely go, but plan to Uber or drive there, see Graceland and then head back downtown.
If you prefer shopping, hanging out with friends and maybe having a few drinks, stay downtown and spend part of your Saturday afternoon on South Main. There are unique boutiques, bars and coffee shops to occupy an entire fun-filled day. There are also several local micro-breweries and distilleries that would be great to visit. There's something for everyone, so no matter how you choose to spend your day, you're sure to have a great time!
Saturday evening is the perfect chance to go back to the Peabody for a drink while watching the ducks walk back to their home again – I wouldn't judge and would probably do the same! For dinner, consider Itta Bena which has a cool atmosphere above BB King's Blues Club on Beale Street. Other restaurants that have recently opened in the past few years and are receiving great reviews, include Catherine and Mary's and Bishop. I have not dined at either of these, as we could not get reservations while we were in town, but both are reported to be great spots for a casual, upscale dining experience.
Depending on the time of year you visit, there are fun choices for sports fans! One of the coolest things about Memphis is that you can attend a Memphis Grizzlies (the local NBA franchise) game, then walk right out onto America's most iconic street, Beale Street, after the game. There are also great pre-game activities, both on the street or in the bars, on Beale. All of this excitement is within an easy walking distance of hotels downtown, so if you are in Memphis during the NBA Season, make sure you go to a Grizzlies game.
If you're into baseball, you can catch the St. Louis Cardinals Triple A team which calls Memphis home. Fans can watch the Memphis Redbirds play at AutoZone Park, which was at one time voted the number one minor league park in America. It is literally across the street from the Peabody and several other hotels, so it is super convenient to all of downtown Memphis.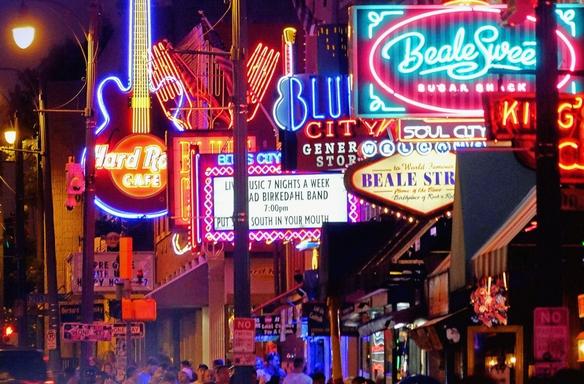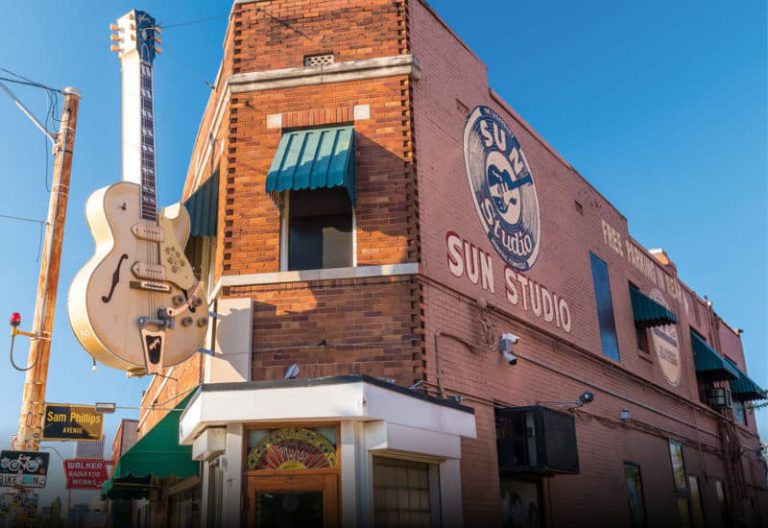 After a great weekend in Memphis, you will leave wanting to come back – and soon. With its unique combinations of delicious food, amazing culture and diverse music, there is really no place like Memphis. If you are in an aircraft partnership, Memphis is the kind of place that could have you fighting over the plane schedule so you can plan another trip back! Make sure you use Coflyt to schedule your time away so that you, and all of your owners, can fly and enjoy #PilotPeaceofMind!