Identifying an A&P for Your Aircraft Ownership Team and Regularly Communicating with Them is Important!
As general aviation aircraft owners and operators, we all depend on a valuable relationship with a trusted A&P. These are the partners that assure us that aircraft inspections are met, anything broken is fixed and anything that needs to be serviced, is serviced. A&P sign-off is required by the FAA for most any work conducted on your aircraft – excluding a few exceptions granted by the FAA for owner maintenance, oil changes being the best example.
When I purchased my first aircraft and began learning the true responsibilities that come with ownership, identifying an A&P that would be a trusted partner was a tough task. Just like there are good doctors or bad doctors, good cops or bad cops and good pilots or bad pilots, there are also both good and bad A&Ps! As a new owner, how do you know and effectively identify the best person for you or your partnership to work with? It is a tough question to answer, but as with other major decisions or choices, it can be beneficial to seek the advice of those with experience who you trust. For purposes of this discussion, I recommend that you seek out other aircraft owners in your area who you know and trust and that you look for and ask about any potential A&P's experience on your specific aircraft. An A&P that stays busy maintaining a flight school's fleet of Cessna 172's, may not be the best option to service your Beechcraft Bonanza.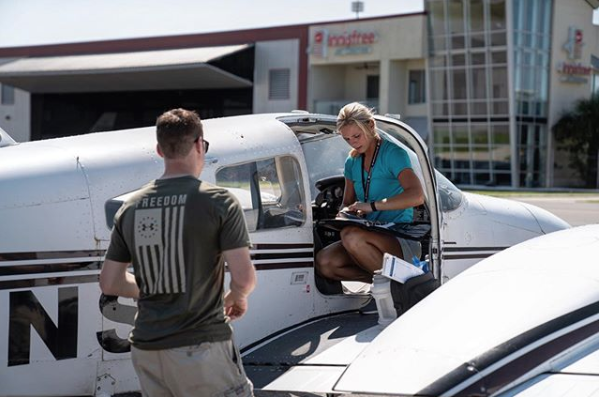 When I first moved to Pensacola from Memphis, I had an annual coming due on the Bonanza I owned at the time. In a bind, and not knowing many people in the local area yet, I settled on an annual with an A&P at the airport where I was based. I also was a relatively new aircraft owner at the time, so I hadn't quite figured out the importance of knowing an A&P had experience with my specific type of aircraft. I am sure the annual was conducted in accordance with the FAA requirements, it was signed off appropriately and the general maintenance items were covered.  But, shortly after that particular annual, an American Bonanza Society CFI and A&P was going over my aircraft as part of a flight review. It became apparent pretty quickly that there were several items specific to my Bonanza that should have been checked, or recognized as issues, which weren't. It required additional expense to correct these items, and it wasn't until the next annual when I literally paid the price for maintenance items that should have been previously caught.
The lesson:  it is critically important to identify and partner with a trusted A&P who is familiar with your aircraft!
The word partner is important and should be a key relationship that you build during your time as an aircraft owner. Because of the importance of this relationship, we felt that it was important that you could include those that are part of your ownership team within the Coflyt app – so that's what we did. We believe that Coflyt can add value to your ownership experience, by improving communication across your team and helping you bring that team together within the Coflyt app.
Once you have identified your A&P, here are the steps and capabilities within the Coflyt app that will help you maintain awareness and effective communication within your partnership – which should include your A&P:
Setup: 

Within "Settings" in the Coflyt app, select "Users" located at the top of the page and add your A&P. There is a profile for A&P that lets you choose

how you'd like to

communicate updates to them

(or how they'd prefer to receive updates from you)

, either via SMS or email.

 

Airworthiness:

  Once you have added your A&P, he will be able to

easily

access

important information about your

aircraft to see the time you are flying, when your next oil change may be due or any other items that he should track with you, including: engine time, annual due date,

your next

ELT check date or other items

relevant

to

your particular aircraft. As an example, there are three different inspections on a Cirrus parachute system which can be tracked and monitored by your A&P via his Coflyt connection to you

r aircraft

.

 

Squawks:

  If you have a maintenance issue or even a questionable item

you'd like to check on

, enter it into

the

"Squawks"

section in your Coflyt

account and your A&P will receive an immediate notification via email, text or both.

 

Airworthiness Directives:

  Most likely, you and your A&P are tracking

the

ADs associated with your aircraft via paper, i.e. search, download, print and stick in a folder.

If that sounds familiar, then it's

time to move into the 21st Century and track your ADs with Coflyt! ADs are

always

available via Coflyt to review, track and assure

reminders are set for those that are recurring

. Your A&P will still need to sign off,

confirming

relevant

ADs have been reviewed and completed as part of your annual, but move

enjoy flying with pilot peace of mind when you move AD tracking

from paper to Coflyt!

 

Schedule:

  You can use the scheduling functionality within Coflyt to

reserve your aircraft

for maintenance with your A&P and communicate

why it's booked with

your ownership team.
There is much more on the horizon for Coflyt that will continue to enhance your experience and partnership with your A&P. As we're well aware, most A&P's are extremely busy and may not have the time to answer the phone every time you call, but with Coflyt, the information on your aircraft will be available to them in real-time, allowing them to check in and catch up when it fits their schedule. We will continue to expand the Coflyt experience for both A&P's and aircraft owners, developing additional tools to provide #PilotPeaceofMind along the way.