When my neighbor suggested he and I fly to his hometown for a visit and then mentioned that the nearest airport was "Gun Barrel, Texas", although I had never heard of it, I wasn't surprised. I don't know, but I am pretty sure there is no Gun Barrel, Florida or Gun Barrel, New York; it just makes sense that a place with a name like that would be in Texas!
You would have to know a little bit about my neighbor Doug to better appreciate the possibility of embarking on a trip like this. Let's just say he was known to bounce between Mexico, the US and Canada during the 60's, participating in 'adventures' that I am sure still have law enforcement looking for him. He's a very colorful personality, and a great friend who always has an entertaining story to share! The fact that his dad was a highly decorated Naval Aviator endears him to my heart even more.
Doug keeps a part time house in Pensacola, but lives in a small town in Texas, for which 74XA is the most convenient strip. It is a private airport, so we contacted the owner to ask if we would be good to land the Thursday of our flight, letting him know that we would need fuel while we were there. All was good, he just needed me to send a copy of my insurance and FAA Certificate over to him – I assume for insurance purposes. I sent the copies over via SMS, and he responded with a thumbs up, indicating that we were good to land and fuel up in Gun Barrel City. With COVID in the air, travel options were limited, but I was anxious to put some time on the Baron.
 
The morning of the flight, Doug met me at the airport for what would turn out to be a full day of flying. In the Baron, we were filing an IFR flight plan, covering the 480 NM at 185 knots, so we were looking at roughly three hours in flight with VFR conditions expected for most of the day. I actually filed into the Athens, TX airport, F44, planning the RNAV approach – just in case I needed it upon arrival. Athens was just a few miles south of Gun Barrel City, and my plan was to shoot the approach, then cancel and finish VFR into Gun Barrel. This was Doug's very first time in a general aviation aircraft, so this was going to be an exciting experience for him! Always with plenty to say, I had to train him – pretty quickly – not talk over Pensacola Approach on departure. Once he got used to the rhythm of conversation with air traffic control, we were all good and rolling!
The flight from Pensacola to Gun Barrel City, southwest of Dallas took us over the beautiful Southeastern United States, from Florida, across Alabama, Mississippi and Louisiana. Anyone who believes that somehow our world is over-populated, would likely change their mind after observing the wide open acreage with nothing, but pine trees, wildlife, rivers and lakes in sight on a flight like this! We had a smooth flight, with plenty of cool air at our filed altitude of 8000 feet. The only complexity on our route of flight was the number of MOAs and restricted areas in South Mississippi. We had filed our flight plan around these areas or at an altitude below, so there were no issues at all as we passed through.
When we were handed off to Fort Worth Center, we began our descent, and I conducted the approach briefing for the RNAV into F44. Although Doug had no idea what I was talking about during the briefing, I like to cover it verbally to my passengers, and he seemed to appreciate the review. I completed the RNAV approach down to pattern altitude, cancelled IFR, entered a downwind leg at F44, before departing the pattern for the brief VFR flight into Gun Barrel.
Identifying the runway at Gun Barrel was a challenge! The description in ForeFlight was a "3075' 'Good Asphalt' strip", but what was not mentioned was the fact that the strip was buried inside a treeline with hangars on both sides! When I finally identified the airport, I decided to enter the upwind leg for 36 so that I could get a better view of both the airport and runway.
It looked fine at 1300 feet, although I was again surprised at the visual tightness, with trees and hangars apparently just outside the runway boundaries. We turned crosswind, downwind, base and final with gear down and all checklists complete for landing. As I turned final and dropped full flaps, I thought, geez, I'm literally landing in a visual tunnel here! I didn't verbalize my thoughts – for Doug's sake – but with trees on the end and vegetation and buildings on either side, the visual effect was that it would be a pretty tight squeeze for the Baron! Despite the appearance, all was well on final and we touched down for a smooth landing, letting it roll out to the end. It was actually a fun challenge, landing at an unfamiliar strip that required hitting the marks to ensure a smooth landing. As we were about to touchdown, I noticed that the runway certainly wasn't what I would describe as "Good Asphalt". As pilots we are always learning, and in this case, I realized the importance of being skeptical of reported runway conditions. While it was not necessarily unsafe, there were spots that would be uncomfortable for the gear to roll through and there were more than enough loose pebbles to cause some minor prop damage.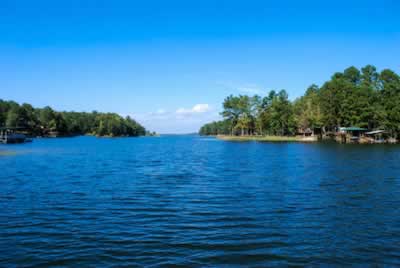 After landing, we taxied back, met the owner of the strip and refueled for the trip back to the Pensacola area. After an early start and a three hour flight, we were definitely going to grab lunch to refuel our stomachs for the trip back. Doug recommended that we go to Vernon's Lakeside for lunch, which was just about 10 minutes from the airport. If you make it into Gun Barrel, Vernon's is not a bad spot; situated right on Cedar Creek Lake, which runs the length of the town. We met Doug's friend, who was joining us for the trip back, and enjoyed a good lunch before heading back to fly home.
The flight back to 2R4 was nice and uneventful, essentially a reverse of the flight over. By the end of the day, we had put 7 hours flight time on the Baron, which is right at my personal limit. I love making these trips, seeing new spots and introducing others to the pleasure and benefits of private flying. During these days of COVID, I find that we are looking for places to go, and that many of these places are glad to have the business. Our trip to Gun Barrel City offered this while also providing an opportunity to build some flight time. Once we landed back in Milton, we logged the flights in Coflyt so all facets of aircraft management were updated, providing me with #PilotPeaceofMind and ensuring the Baron's aircraft readiness for the next trip!