Do we, as pilots, pay enough attention to the tracking and management of ADs associated with our aircraft?
Do a little self-check right now, do you know when your next recurring AD is due? Do you know if you have recurring ADs for your aircraft? You would think the language directly from the FAA website below would be enough to get our attention:

Airworthiness Directives (ADs)  are legally enforceable rules issued by the FAA in accordance with 14 CFR part 39 to correct an unsafe condition in a product. 14 CFR part 39 defines a product as an aircraft, aircraft engine, propeller, or appliance.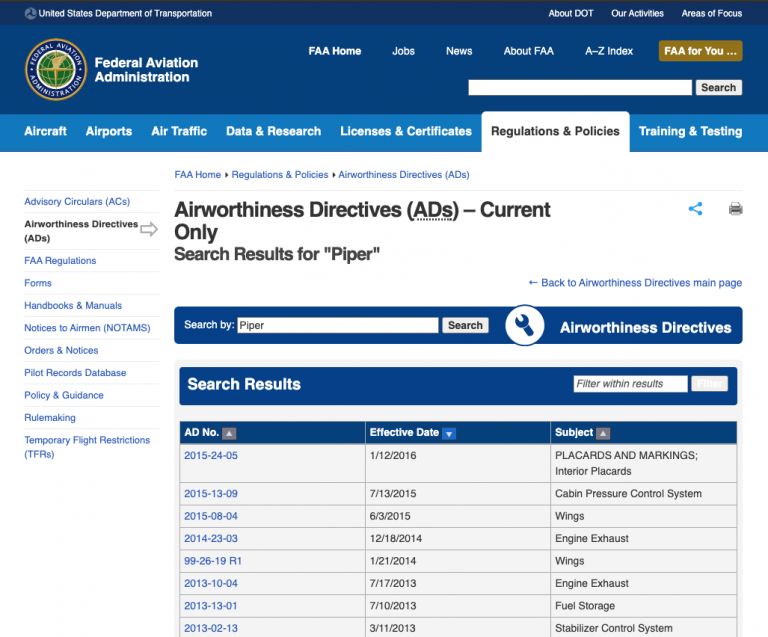 Despite the obvious importance of this language, many general aviation pilots are flying around today without knowledge of their ADs, much less if they have an AD due. In many cases, aircraft owners will tell you that they depend on their A&P to track ADs and assure that they are met, but FAR 91.7 specifically states "the pilot in command of a civil aircraft is responsible for determining whether that aircraft is in condition for safe flight." That's pretty darn clear; if you fly an aircraft that is not deemed safe for flight due to an outstanding AD, it is your responsibility as the pilot in command. While A&P's do amazing work and often cover the gaps for GA pilots – keeping us out of trouble – but as pilots, we are responsible for our awareness of and compliance with ADs. Here is an example of a Piper PA-31-350 incident from the FAA 2000 data, where the FAA clearly noted a failure to comply with ADs associated with the aircraft:
"The pilot of another airplane waiting for takeoff radioed the pilot of the accident airplane and told him that there was a fire on the right engine. The pilot of the accident airplane confirmed the fire and shut down the right engine. The engine fire was subsequently extinguished after airport officials used several hand-held fire extinguishers. The internal examination of the engine compartment showed fire damage in the vicinity of the engine driven fuel pump. Adjacent to the fuel pump assembly was a hydraulic supply line. Additional examination of the engine compartment disclosed that the hydraulic supply line was loose; the engine driven fuel pump was also loose. A review of the airframe and engine maintenance log books revealed that Airworthiness Directive (AD) 98-18-12 was required. The AD requires that the engine driven pump assembly be re-torque "to prevent leaks that could result in engine failure or engine fire." The log book review failed to show compliance with this AD."
The good news is that no one was injured or killed due to this failure in compliance, but there are examples in the same data report where accidents that resulted in death include failure to comply with ADs in the review!
It is difficult to track all the requirements associated with aircraft ownership and aircraft readiness, which is one of the primary reasons we chose to create a tool like Coflyt. Pilots who use Coflyt have the tools needed to ensure they are always aware of the airworthiness of their aircraft, avoiding the risk of missed inspections, missed ADs or other missed maintenance requirements. As experienced pilots, we've all made these errors, and luckily, in many cases, we have all been fortunate that they didn't bite us at the wrong time. But it is also why a feature like this was of critical importance to us as we were building Coflyt.

As I've mentioned before, there is very little in our training as pilots that teaches us the requirements and responsibilities of aircraft ownership, making it the responsibility of the pilot to go back to the FAR's and other resources to understand those responsibilities. As with many responsibilities associated with owning an aircraft, I learned this lesson the hard way:  by missing an AD! My 1970 Beechcraft Baron E55 has three recurrent ADs:  landing gear uplock rollers (100 hours), engine mounts (100 hours) and a wing spar inspection (500 hours). During 2019, I flew 115 hours between annuals, not conducting a 100 hour inspection on these items. It was simply a lack of awareness on my part, not an intentional miss of these ADs. My lack of awareness could easily have been a HUGE problem for me. Let's say that on an approach during the 105th hour I have a landing gear failure, resulting in a forced gear up landing. I have little doubt that the FAA would have highlighted the fact that the uplock roller inspection had not been conducted as required. Would my insurance have even covered the damage, or would they have cited the missed AD as a reason to void my coverage?
The joy of aircraft ownership and the opportunity to travel using personal aircraft is such an amazing privilege! But we should all be aware that this privilege comes with significant responsibility for our safety, the safety of our passengers and the safety of the general public. We're excited to share that Coflyt now has the capability to enter the ADs associated with your specific aircraft, with an automated method for entering ADs based on tail number slated for release later this year. I hope that aircraft owners will take advantage of this tool to assure the airworthiness of their aircraft and to enjoy flying with #PilotPeaceofMind!